USDA Now Considers GMO Contamination 'Normal'
In a telling response to the highly concerning discovery that Monsanto's genetically modified alfalfa ended up contaminating a 'GMO-free' crop harvest, the USDA went on record in declaring that the genetic contamination was perfectly normal and not any of their concern.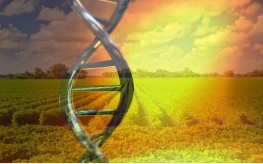 In fact, the USDA went on to say that there are measures in place to 'minimize' the widespread contamination of Monsanto's genetically modified crop, and that's all that's required. What the organization is saying here is that it doesn't matter if GMOs are contaminating 'GMO-free' crops, and it doesn't even seem to matter that the very integrity of the international food supply is being mixed with genetically modified crop varieties. The agency tasked with keeping our food supply functioning safely even says that it's really a 'marketplace' issue.
In the response reported by Reuters:
"USDA said the detection of Monsanto Co's patented Roundup Ready herbicide-tolerant trait in the Washington farmer's non-GMO alfalfa crop should be addressed by the marketplace and not the government."
A marketplace issue? The agency tasked with handling specifically this subject in its entirety is telling us that it's our problem and we need to just deal with it ourselves. That's highly irresponsible of the USDA at the very least, but of course in reality it has much more to do with the fact that the USDA is under the deep influence of biotech juggernaut Monsanto. Why do you think that, as I told you back in February, the USDA is giving special 'speedy approval' to Monsanto on its new GMO crop varieties?
Why would the agency offer an even 'speedier' approval process than the already abysmal safety process that has been blasted by scientists and consumer organizations?
And as Monsanto receives an extra helping hand of corruption, farmers around the United States attempting to grow GMO-free crops are being thrown out of export deals due to GMO contamination. GMO contamination that will ultimately suffocate the entire industry if something isn't done. It looks like the agency in charge of agriculture and its preservation is perfectly fine with that.
---
---


Anthony is a natural health and human empowerment writer, speaker, and entrepreneur whose writings have appeared in #1 USA Today and Wall Street Journal Best-Selling books and top 100 websites. After overcoming Lyme Disease and nerve-related facial paralysis, Anthony's work now reaches several million readers per month through his highly prolific group of social media pages and websites. Focused on self-development techniques and living a healthy lifestyle, Anthony currently sits on the Advisory Board to Natural Society in addition to managing and directing several other companies dedicated to enhancing social good. Anthony's work routinely appears on both alternative and established websites and television programs alike, including Drudge Report, Thom Hartmann, Simple Reminders, RT, Infowars, Michael Savage, Gaiam TV, and many others.