The 64 Countries that Require GMO Labeling – U.S. Buckles Under Biotech Pressure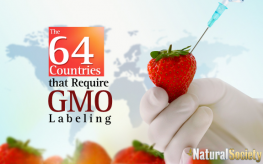 Monsanto, Dow, Cargill, and many dozen food manufacturers are trying to fight the imminent passage of labeling bills in both Colorado and Oregon, claiming that GMOs' are 'safe,' and that labeling will only lead to food hysteria. But the fact is, much of the modern world requires labeling of GMO foods, or downright bans them. What about the United States? No labeling here!
Companies like Safeway, Target, and Starbucks don't want to tell you what is in your food, and neither do Kraft, Pepsi, Coca-Cola, and more, but its time to stop these corporate monsters in their tracks. The U.S. is the land of plenty – or used to be, but corporations given personhood and the biotech industry have taken over. Why does the U.S. even have to fight this fight when 64 other countries already label or completely ban GMOs?
The fact is that Americans eat lots of processed food – food that is full of GMO corn, soy, rice, and sugar beets – four of the biggest GMO money-making crops on the planet.
In the book "Salt Sugar Fat: How the Food Giants Hooked Us," Pulitzer Prize-winning New York Times reporter Michael Moss exposes how the unregulated food industry has developed unhealthy ways to get consumers hooked on their brands. They know many of us are hooked on 'fake-foods' like drug addicts on crack, but that is all about to change.
We don't need to eat their RoundUp-drenched crap anymore, but we also need to require labeling so that even 'organic' and 'natural' foods are safe from biotech meddling. (Though many argue that GMO labeling isn't enough, that even with labeling, organic crops will be contaminated with GM crops and biotech giants will continue to plant GM crops.)
The following 64 countries require GMO labeling of some kind:
(Courtesy of The Center for Food Safety):
Australia
Austria
Belarus
Belgium
Bolivia
Bosnia and Herzegovina
Brazil
Bulgaria
Cameroon
China
Croatia
Cyprus
Czech Republic
Denmark
Ecuador
El Salvador
Estonia
Ethiopia
Finland
France
Germany
Greece
Hungary
Iceland
India
Indonesia
Ireland
Italy
Japan
Jordan
Kazakhstan
Kenya
Latvia
Lithuania
Luxembourg
Malaysia
Mali
Malta
Mauritius
Netherlands
New Zealand
Norway
Peru
Poland
Portugal
Romania
Russia
Saudi Arabia
Senegal
Slovakia
Slovenia
South Africa
South Korea
Spain
Sri Lanka
Sweden
Switzerland
Taiwan
Thailand
Tunisia
Turkey
Ukraine
United Kingdom
Vietnam
---
---


Christina Sarich is a humanitarian and freelance writer helping you to Wake up Your Sleepy Little Head, and See the Big Picture. Her blog is Yoga for the New World. Her latest book is Pharma Sutra: Healing the Body And Mind Through the Art of Yoga.