80% of Processed Foods in US Are Banned In Other Nations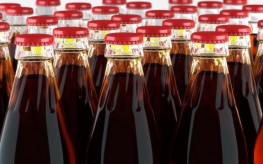 I write a lot about the dangers of processed foods when it comes to wreaking havoc on our health, but even I was surprised to find that 80% of pre-packaged foods sold in the United States are actually banned in other nations. And for good reason.
Whether it's toxic soda brands like Mountain Dew, or sugary artificial cereals and carcinogenic 'potato' chips, around 80% of the processed food variety within the US actually contains ingredients that are banned around the world in countries like Canada and the United Kingdom. As a matter of fact, sometimes they're banned throughout the entire European Union. The FDA, however, seems quite alright with these disease-linked substances lurking within the food supply.
And the USDA? Oh, well they also went ahead and approved the very same toxic pesticide that the EU banned just days earlier over significant health concerns and links to the destruction of the bee population — a population which we need in order to generate a staple crop supply for the entire globe.
Banned Ingredients In Your Food
According to a report in Yahoo Sunshine, a team of researchers actually went in and discovered the percentage of items banned based on the examination of ingredients the products contain that were banned across the globe.
From substances like Olestra (used in low fat products and linked to gastrointestinal disorders and of course increased weight gain ironically enough) to thyroid-decimating brominated vegetable oil, hundreds of thousands of products were found to be utilizing these disease-riddled ingredients that the rest of the world shuns due to health concerns.
Meanwhile, Americans are being sold these 'food' products throughout the nation via deep discounts and heavy promotions through their local grocery stores. And what does the government have to say?
The same government that cracks down on raw milk and natural supplements. Well, the US government goes ahead and allows for Big Food corporations to unleash their entire medley of health-crushing ingredients within the food supply, and then uses phony corporate science to say that it's 'unscientific' to criticize these companies for their complete lack of concern for public safety.
The bottom line? Ditch any processed food you may be consuming, and don't be fooled by phony Big Food corporate science. Over 80% of what's considered food here in the US has been banned in other nations, and citizens there would never dream of eating the yoga mat chemicals that we call chicken nuggets here in the USA.
---
---


Anthony is a natural health and human empowerment writer, speaker, and entrepreneur whose writings have appeared in #1 USA Today and Wall Street Journal Best-Selling books and top 100 websites. After overcoming Lyme Disease and nerve-related facial paralysis, Anthony's work now reaches several million readers per month through his highly prolific group of social media pages and websites. Focused on self-development techniques and living a healthy lifestyle, Anthony currently sits on the Advisory Board to Natural Society in addition to managing and directing several other companies dedicated to enhancing social good. Anthony's work routinely appears on both alternative and established websites and television programs alike, including Drudge Report, Thom Hartmann, Simple Reminders, RT, Infowars, Michael Savage, Gaiam TV, and many others.