Groups File Lawsuit over Vermont's New GMO Labeling Law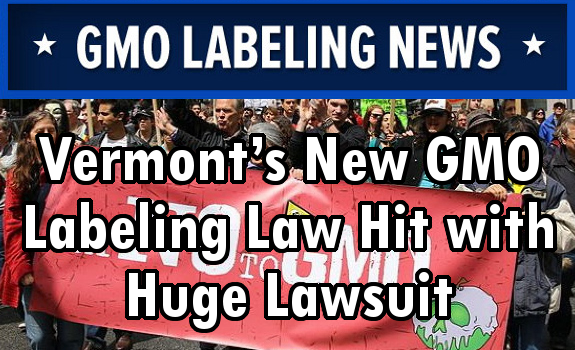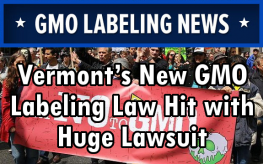 Four national groups who are part of the Grocery Manufacturers Association (the front behind illegal campaign contributions to defeat GMO labeling in Washington and California recently), the Snack Food Association, the International Dairy Foods Association and the National Association of Manufacturers, have filed a lawsuit in federal court challenging Vermont's mandatory GMO labeling law.
The world was expecting this backlash. The GMA even told us they would fight back with a lawsuit. Nevermind that people have a right to know what is in their food, and that they surely don't deserve to be poisoned with genetically altered ingredients that have been linked to organ damage, cancer, and even reproductive failure.
The four groups are saying that Vermont's mandatory labeling law is unconstitutional, even though in an analysis of our First Amendment rights, attorneys at Emord & Associates have determined that labeling GMOs is far from unconstitutional. This privilege is in fact protected under the Bill of Rights.
"Vermont's mandatory GMO labeling law — Act 120 — is a costly and misguided measure that will set the nation on a path toward a 50-state patchwork of GMO labeling policies that do nothing to advance the health and safety of consumers," the Grocery Manufacturers Association said in a statement about the lawsuit.

"Act 120 exceeds the state's authority under the United States Constitution and in light of this GMA has filed a complaint in federal district court in Vermont seeking to enjoin this senseless mandate."
The labeling of genetically modified ingredients in foods in Vermont is set to start in July of 2016. Due to this lawsuit, however, it is unknown whether the new law will stick.
Read the Lawsuit: PDF: Lawsuit vs. Vermont GMO law
Though Vermont did pass the bill with a vote, Attorney General William Sorrell advised lawmakers that they would face a lawsuit by the GMA, and:
". . .it would be a heck of a fight, but we would zealously defend the law."
"We have been gearing up," Sorrell said when reached Thursday afternoon in New York City. His office had yet to be served with the complaint.
"I want to see the nature of the attack on the law," he said, but added, "I don't think there are going to be any surprises."
According to the GMA:
"Act 120 imposes burdensome new speech requirements — and restrictions — that will affect, by Vermont's count, eight out of every ten foods at the grocery store. Yet Vermont has effectively conceded this law has no basis in health, safety, or science. That is why a number of product categories, including milk, meat, restaurant items and alcohol, are exempt from the law. This means that many foods containing GMO ingredients will not actually disclose that fact."

"The First Amendment dictates that when speech is involved, Vermont policymakers cannot merely act as a pass-through for the fads and controversies of the day," the association continued. "It must point to a truly 'governmental' interest, not just a political one."
The GMA believes the federal government has a right over states to decide if GMOs should be labeled.
"The U.S. Food & Drug Administration, the U.S. Department of Agriculture and the Environmental Protection Agency have both the mandate and expertise to incorporate the views of all the stakeholders at each link in the chain from farm to fork," the association said.
Advocates of the right to know assert that transparency is the only legitimate way of protecting consumers.
"The people of Vermont have said loud and clear they have a right to know what is in their food," said Falko Schilling, consumer protection advocate with the Vermont Public Interest Research Group.
Schilling pointed out that lawmakers were unable find consensus about the safety of GMO foods "so putting labels on is a reasonable and prudent thing so people can decide for themselves."
The lawsuit, filed at U.S. District Court in Burlington, contends the Food and Drug Administration has "confirmed the safety of more than 100 genetically engineered crops for human consumption" since 1994.
The lawsuit also argues that there must be a compelling interest to restrict information that food manufacturers provide about their products.
"The state's unwillingness to use its own funds to administer and defend Act 120 is express confirmation that Vermont does not have a 'state' interest in the survival of the law," the lawsuit reads.
How about a compelling interest that these companies seek profits over the safety of the people of this nation?
The definition of genocide includes 'causing serious bodily or mental harm to members of a group' I believe that this has been proven without a shred of doubt already. Hundreds of scientists have begged our removal of GMOs from the agricultural landscape. What about a counter-suit, which draws on the tenets of the United Nations' Human Rights?
"Article I: The Contracting Parties confirm that genocide, whether committed in time of peace or in time of war, is a crime under international law which they undertake to prevent and to punish. "
---
| | |
| --- | --- |
| | Christina Sarich is a humanitarian and freelance writer helping you to Wake up Your Sleepy Little Head, and See the Big Picture. Her blog is Yoga for the New World. Her latest book is Pharma Sutra: Healing the Body And Mind Through the Art of Yoga. |
2 responses to "Groups File Lawsuit over Vermont's New GMO Labeling Law"