Report: West Coast Children Hit With Thyroid Problems Following Fukushima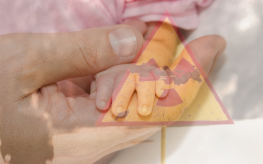 Still think that the Fukushima nuclear meltdown of 2011 never affected the United States public? Young children born in the United States West Coast, right in the line of fire for radioactive isotopes, have been found to be 28% more likely to develop congenital hypothyroidism than infants born the year before the incident.
The study followed children born in California, Alaska, Washingto, Hawaii, and Oregon between 1 and 16 weeks after the horrific meltdown at Fukushima back in March 2011. Published in the Open Journal of Pediatrics by researchers affiliated with the Radiation and Public Health Project, the information further lends credence to previous documentation regarding the way in which radioactive fallout ended up on US soil.
The researchers explained how radioactive fallout affected the entirety of the US in varying degrees:
"Fukushima fallout appeared to affect all areas of the U.S., and was especially large in some, mostly in the western part of the nation," they wrote.
Fukushima's Effects on The US
The findings are likely no surprise to those who have been following the effects of Fukushima closely, as back in 2011 numerous reports surfaced regarding the ways in which Fukushima's radioactive waste had made its way to the US geography in a big way. Despite Japanese officials downplaying the incident and its real devastating health consequences, even so much as to ignore the fact that Fukushima radiation was detected in Tokyo far beyond the evacuation zone, US scientists were quick to reveal their own measurements to the scientific community.
Read: How to Boost Your Thyroid Naturally
Even as far away as Boston, highly radioactive objects known as 'hot particles' were detected by 2 out of 3 monitoring stations.
Scientists from UC Berkley detailed even more concerning reports following the disaster, finding the highest cesium content in topsoil for each California location was consistent. The recordings were posted online along with the date of finding:
Sacramento, CA Topsoil on Aug. 16, 2011: Total Cesium @ 2.737 Bq/kg
Oakland, CA Topsoil on Sept. 8, 2011: Total Cesium @ 2.55 Bq/kg
Alameda, CA Topsoil on Apr. 6, 2011: Total Cesium @ 2.52 Bq/kg
San Diego, CA Topsoil on June 29, 2011: Total Cesium @ 2.51 Bq/kg
Sonoma, CA Topsoil on Apr. 27, 2011: Total Cesium @ 2.252 Bq/kg
But the levels were nothing compared to what Marco Kaltofen, PE, of the Department of Civil & Environmental Engineering at Worcester Polytechnic Institute (WPI) recorded from his research. In his report presentation, entitled  'Radiation Exposure to the Population in Japan After the Earthquake', Kaltofen found samples on US soil that were 108 times greater than what UC Berkley researchers were reporting.
---
---


Anthony is a natural health and human empowerment writer, speaker, and entrepreneur whose writings have appeared in #1 USA Today and Wall Street Journal Best-Selling books and top 100 websites. After overcoming Lyme Disease and nerve-related facial paralysis, Anthony's work now reaches several million readers per month through his highly prolific group of social media pages and websites. Focused on self-development techniques and living a healthy lifestyle, Anthony currently sits on the Advisory Board to Natural Society in addition to managing and directing several other companies dedicated to enhancing social good. Anthony's work routinely appears on both alternative and established websites and television programs alike, including Drudge Report, Thom Hartmann, Simple Reminders, RT, Infowars, Michael Savage, Gaiam TV, and many others.