Monsanto is Sinking: 3,600 Job Cuts as Corn, Roundup Sales Plummet
An update from late 2015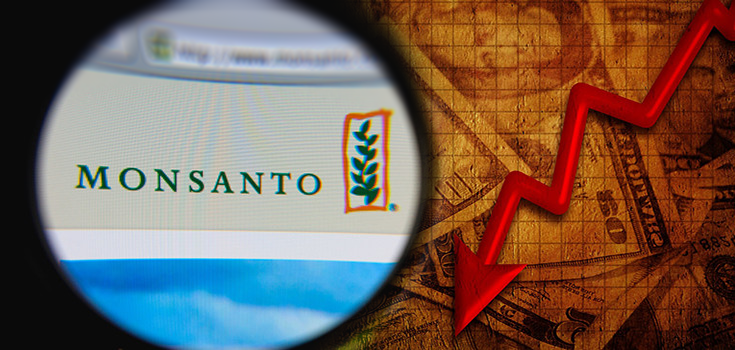 There's a reason that Monsanto recently made a suicide bid for its competitor Syngenta's business. The company continues to lose profits, with the latest numbers painting a continued stark financial picture for one of the most hated companies in the world. [1]
Announced just this past week, Monsanto related figures showing that sales in the company's agricultural productivity segment, which includes its best-selling Roundup herbicide, fell 34% to $820 million for the quarter ended Nov. 30. Shares fell slightly due to the admittance.
Monsanto also revealed that it plans to cut more of their work force – a total of 3600 jobs, which accounts for 16% of its global employee base. The biotech giant will also record $1.1 billion to $1.2 billion in 'restructuring' costs.
This news follows recent press releases from Monsanto stating that it would cut 2600 jobs globally to cut costs and consolidate some of its business. It also said it would be getting out of the sugar cane business completely, possibly due to Hershey's recent vow to remove GM sugar from some of its products.
Monsanto has been struggling for investor confidence following the announcement in March 2015 from the World Health Organization's IARC that declared glyphosate, the world's most commonly used weed-killer – a "probable human carcinogen." This ingredient is the back-bone of Monsanto's herbicide, Roundup.
Many of Monsanto's genetically modified crops were designed to be grown as 'Roundup Ready,' meaning that they can withstand copious amounts of the chemical.
Obviously the growing bans of this toxic chemical concoction in multiple countries will only continue to affect Monsanto's financials.
Monsanto stated:
"Net sales for the quarter decreased over the prior year's first quarter to $2.2 billion. Gross profit on an as-reported basis for the 2016 first quarter also decreased over the prior year period to $901 million. As expected, the decline in the quarter is due to weaker foreign currencies, glyphosate pricing and lower corn volumes in Latin America.

With the anticipated continuation of several global and industry headwinds that include the recent currency devaluation in Argentina, Monsanto expects full-year ongoing EPS guidance to be at the lower half of the range of $5.10 to $5.60."
Sources:
---
---


Christina Sarich is a humanitarian and freelance writer helping you to Wake up Your Sleepy Little Head, and See the Big Picture. Her blog is Yoga for the New World. Her latest book is Pharma Sutra: Healing the Body And Mind Through the Art of Yoga.