US Approves First Genetically Modified Potato for Planting
Government sacrifices your health to bloated biotech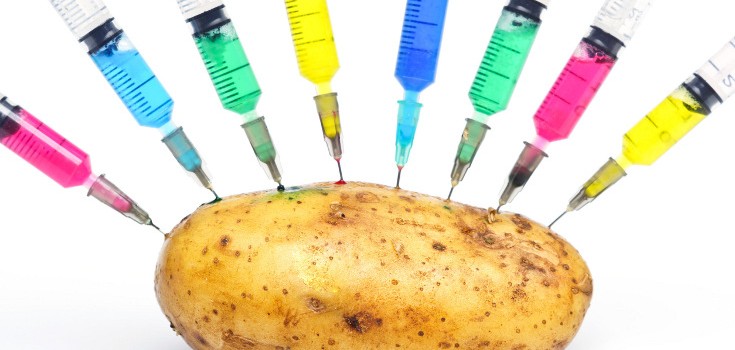 As the battle for the food supply rages on with over 96 plus percent of the nation in full support of GMO labeling, the United States Department of Agriculture (USDA) has announced that it is throwing public opinion to the wayside and green lighting the first genetically modified potato for commercial planting.
Continuing the intensely documented relationship between major branches of the U.S. government and biotech firms, the latest actions by the Agriculture Department go hand in hand with reports we brought you nearly two years ago which revealed how U.S. representatives were actually threatening other nations with trade wars who would not accept Monsanto's genetically modified crops.
Reuters reports on the decision to infect the food supply with genetically modified potato strains, including the fact that this genetically modified manufacturer is in fact a major supplier to McDonald's for their Franken fries:
"The Agriculture Department on Friday approved the first genetically modified potato for commercial planting in the United States, a move likely to draw the ire of groups opposed to artificial manipulation of foods.

The Innate potato, developed by the J.R. Simplot Co., is engineered to contain less of a suspected human carcinogen that occurs when a conventional potato is fried, and is also less prone to bruising during transport.

Boise, Idaho-based Simplot is a major supplier of frozen french fries to fast-food giant McDonald's."
The decision by our 'we the people' government to approve genetically modified potatoes for implementation within the commercial food supply simply goes to show the necessity to push forward in the informational fight against biotech and GMOs at large. The nation knows that we do not want our food supply contaminated, let alone organic farms cross contaminated with genetically modified strains.
Once again, a major branch of the U.S. government has shown that it would rather put mega biotech corporations into a position of financial power than consider the desires and health of the public.
Additional Sources:
---
---
---



Anthony is a natural health and human empowerment writer, speaker, and entrepreneur whose writings have appeared in #1 USA Today and Wall Street Journal Best-Selling books and top 100 websites.

After overcoming Lyme Disease and nerve-related facial paralysis, Anthony's work now reaches several million readers per month through his highly prolific group of social media pages and websites.

Focused on self-development techniques and living a healthy lifestyle, Anthony currently sits on the Advisory Board to Natural Society in addition to managing and directing several other companies dedicated to enhancing social good.

Anthony's work routinely appears on both alternative and established websites and television programs alike, including Drudge Report, Thom Hartmann, Simple Reminders, RT, Infowars, Michael Savage, Gaiam TV, and many others.