False Pandemic? U.N. Warns of Bird Flu Resurgence

Despite being in decline since 2003, the United Nations has warned of a bird flu resurgence that could potentially reach pandemic levels. While there has been a large degree of speculation over the possibility of a global bird flu pandemic, wild bird migrations have brought it back to previously virus-free countries, and a mutant strain has already caused a number of deaths in Asia. Asian nations also tend to be hit hardest by other strains of the flu due to improper waste management and other factors. Will this bird flu 'resurgence' turn out to be another false pandemic similar to the swine flu 'pandemic' of last year?
According to some experts, the answer is no.
Robert Webster, an influenza expert, says health authorities worldwide need to remain watchful for possible influenza outbreaks, despite swine flu being much less deadly than people had originally feared. Webster, chairman of the virology and molecular biology department at St. Jude Children's Research Hospital in Memphis, Tennessee, USA, says that bird flu remains a possible threat and could be the cause of the next global outbreak.
Even the U.S. Air Force predicted a global avian flu crisis. On June 17, 1996, the U.S. Air Force released Air Force 2025, "a study designed to comply with a directive from the chief of staff of the Air Force to examine the concepts, capabilities, and technologies the United States will require to remain the dominant air and space force in the future."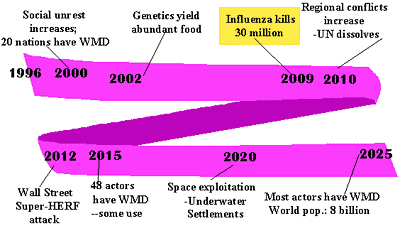 According to the United Nations, residents of  of Bangladesh, China, Egypt, India, Indonesia, and Vietnam will be "most likely" affected by the virus. In addition, a new "vaccine-resistant" strain has been found in both China and Vietnam. Of course that might not matter very much, as a number of the 350 homeless test subjects for the bird flu vaccine ended up dying in Poland following the medical trials.
Instead of taking the vaccine that killed many of those tested, strengthening and maintaining the immune system is more effective and also there are no side effects to go along with it. Just taking vitamin D alone has been found to be 800% more effective than vaccines at preventing the flu.
Additional Sources:
---
---


Google Plus Profile Anthony is a natural health and self-development author, speaker, and activist whose writings have appeared in #1 USA Today and Wall Street Journal Best-Selling books and top 100 websites. As the Co-Founder of NaturalSociety, Anthony's writings on the subject of health and wellness have reached tens of millions of readers worldwide. A proponent of an organic lifestyle, the growth of alternative news, and a dedication to aiding various non-profit organizations, NaturalSociety was Anthony's next step in what he calls "highlighting what you won't be hearing about on the major news networks." Anthony has appeared on both grassroots and established platforms alike, including routine appearances on Drudge Report, Daily Mail, RT, The Blaze, Infowars, Michael Savage's Savage Nation, Coast to Coast AM, and many others. Follow Anthony on Twitter Follow Anthony on Facebook