Weedkiller Presence Sparks Lawsuit over Quaker Oats "100% Natural" Label
After traces of glyphosate were found during testing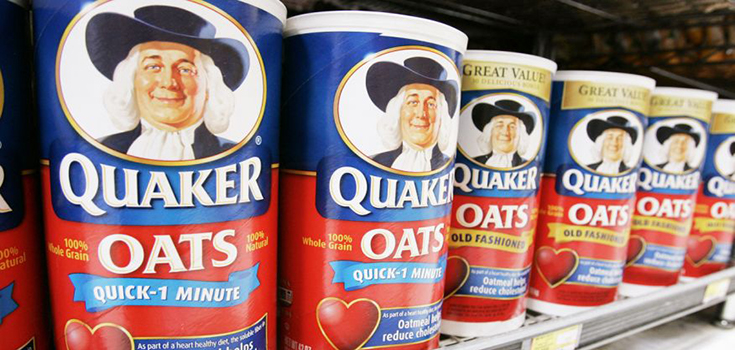 PepsiCo, the owner of Quaker Oats, is facing a lawsuit filed on behalf of consumers in New York and California after testing found traces of glyphosate in some oatmeal. The suit is seeking class action status.
The lawsuit was filed in Federal District Courts in New York and California.
The level of glyphosate detected in the oatmeal falls well below the limit set by federal regulators for human consumption, but the lawsuit alleges that Quaker's "100% natural" label constitutes false advertising due to the presence of the herbicide.
On its website, Quaker claims that the oats used in its products are grown in an environmentally-responsible way. The site states:
"Since oats require less herbicide spray than many other grains, there is less risk of pollutants and groundwater contamination."
The lawsuit alleges that such statements are false and misleading. The suit states:
"There is nothing unlawful about Quaker Oats' growing and processing methods. What is unlawful is Quaker's claim that Quaker Oats is something that it is not in order to capitalize on growing consumer demand for healthful, natural products." [1]
It goes on to say:
"Quaker knows that consumers seek out and wish to purchase whole, natural foods that do not contain chemicals, and that consumers will pay more for foods that they believe to be natural."
The consumers also fault Quaker for deceiving customers "about the nature, quality, and/or ingredients of its Quaker Oats."
Read: Glyphosate Herbicide Found in 14 Popular Beer Brands from Germany
The plaintiffs in the case point out that the World Health Organization (WHO) categorized glyphosate as a possible human carcinogen in 2015, and that oat farmers use the chemical as a weedkiller and a drying agent that is sprayed before harvest.
They are seeking group status and want PepsiCo to issue refunds.
Even though the WHO's International Agency for Research on Cancer (IARC) deemed glyphosate probably carcinogenic to humans, the European Food Safety Authority (EFSA) said in November that its own assessment of the chemical showed it was unlikely to cause cancer. Last week, the EPA posted on its website that it had reached the same conclusion as EFSA.
The differing conclusions aren't likely to have much of an impact on the Quaker suit, according to a lawyer for the consumers in New York, because their complaint focuses on advertising claims rather than the levels of glyphosate in Quaker Oats. [1]
Quaker responded to the suit by saying that glyphosate is not applied during the milling process, and that its oats undergo a rigorous cleansing process.
In a statement to The New York Times, the company said:
"Any levels of glyphosate that may remain are trace amounts and significantly below any limits which have been set by the [US Environmental Protection Agency] as safe for human consumption."
In the United States, the safe level of average individual intake of glyphosate is 1.75 milligrams per kilogram. In the European Union, the level is 0.3 milligrams per kilogram.
The tests found glyphosate on Quaker Oats products at a level of 1.18 parts per million (ppm), which is about 4% of the 30 ppm allowed on cereal grains by the EPA.
Glyphosate is the most commonly used herbicide in the world. In 2013, the EPA approved Monsanto's request to increase use higher levels of the chemical in its Roundup products.
The FDA agreed in February to start testing some products – including milk, corn, eggs, and soybeans – for traces of glyphosate after diligent consumers basically shamed the agency into doing so. [2]
Taiwan's version of the FDA just recently recalled Quaker Oats in that country due to traces of glyphosate found during testing. The nation has a zero-tolerance policy for glyphosate in oats.
Sources:
[1] Bloomberg News
[2] RT
Featured image credit: Fox News / AP
---
---


Julie Fidler is a freelance writer, legal blogger, and the author of Adventures in Holy Matrimony: For Better or the Absolute Worst. She lives in Pennsylvania with her husband and two ridiculously spoiled cats. She occasionally pontificates on her blog.