World's First Pay-What-You-Can Grocery Store Opens in Toronto
We need this in the United States!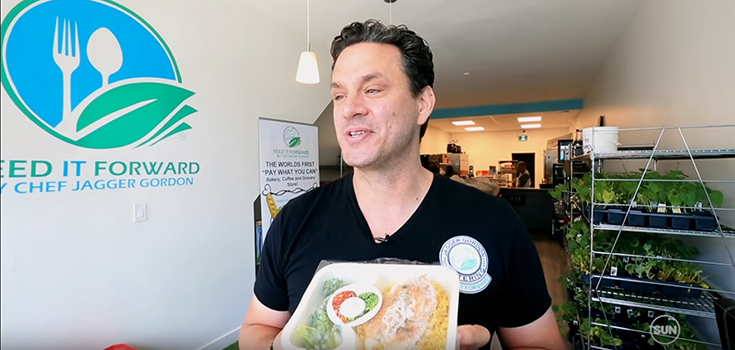 Healthy Living
The world's first pay-what-you-can grocery store is open for business in Toronto. The Feed It Forward Grocery Store allows buyers to pay only what they can afford. [1]
From 2011 to 2012, 2.19 million people in Canada aged 12 and older lived in food-insecure households. [2]
1,415,000 adults and 180,900 children aged 12 to 17 lived in households with moderate food insecurity
545,300 adults and 49,900 children aged 12 to 17 lived in households with severe food insecurity
Brainchild of Chef Jagger Gordon and a team of volunteers, the Feed It Forward Grocery Store opened its doors in June 2018. The new grocery store aims to help feed financially-disadvantaged people and cut down on food waste.
Area grocery stores, farmers, bakeries, distributors, and restaurants donate the food available for purchase at the store. A good portion of the produce consist of "ugly" fruit and vegetables that would normally go in the trash instead of supermarket shelves even though there's nothing wrong with them. The pre-made foods are close to the sell-by date, but are still perfectly fine.
Goldon told The Canadian Press:
"It's a simple procedure of taking those trucks that are destined for landfills and hijacking them and giving them to people in need. There is more of a demand for food that is needed by Canadians than people know."
Gordon estimates that the store diverts 492 lbs. a day from landfills.
The chef heads the not-for-profit Feed It Forward program to help Canadians struggling to afford food, and also opened a pop-up soup bar for 8 months last year, asking patrons to only pay what they could afford.
He points out that 40% of all food produced in Canada winds up in landfills, costing the country $31 billion each year.
On his website, Gordon writes:
"As a chef and caterer, I face this food-waste reality every day and in 2014 I reached a point where I could no longer stand by and let this happen with a clear conscience."
Any food leftover at the Pay It Forward Grocery Store at the end of the day is taken to a nearby homeless shelter and community center, according to Gordon.
Customers who can afford to pay more are free to cover the cost of other customers' purchases, though they aren't forced or coerced to. [3]
Buyers are asked to leave their information when taking groceries to assure that they only take one day's worth of food from the store at a time. This helps ensure that there is plenty of food for everyone.
Gordon doesn't expect to make a profit off the Pay It Forward Grocery Store, nor does he expect to. Although the business model is a tough one, he plans to fund the effort through his other businesses and the goodwill of others who donate to the cause.
If a customer doesn't have any money, they are still welcome to fill their basket with whatever they need for the day.
It's a reminder that in this very troubled world, good-hearted people still exist, and we need them.
Sources:
[1] EcoWatch
[3] Care2
---
| | |
| --- | --- |
| | Mike is the co-founder, editor, and researcher behind Natural Society. Studying the work of top natural health activists, and writing special reports for top 10 alternative health websites, Mike has written hundreds of articles and pages on how to obtain optimum wellness through natural health. |