Bananas are Facing Extinction Because of a Soil Fungal Infection
Scientists hope a soil fungal infection won't reach South America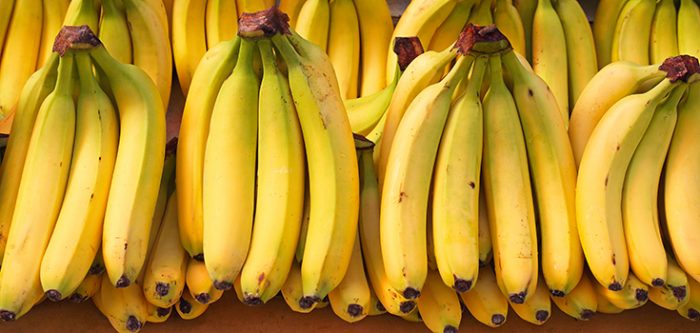 Latest News
Scientists are trying to pull bananas back from the brink of extinction, as the existence of the fruit is being threatened by a tropical disease that's threatening crops around the world.
Bananas are at-risk from Panama disease, a fungal infection currently spreading throughout Africa and Asia that invades the soil. If it spreads to South America – the biggest supplier of a type of commercially grown bananas, known as Cavendish – it could mean buyers never see the fruit on store shelves ever again.
But a type of wild banana called Madagascar might be able to save the species.
Read: Why Bananas Have Gained the Title of "Superfood"
You can't eat Madagascar bananas, but it appears to be immune to Panama disease.
Richard Allen, senior conservation assessor at the Kew Royal Botanic Gardens in the U.K., explained:
"It doesn't have Panama disease in it, so perhaps it has genetic traits against the disease. We don't know until we actually do research on the banana itself, but we can't do the research until it's saved."
However, studying the Madagascar banana might not be as simple as it sounds: only 5 mature Madagascar banana trees remain in Madagascar.
Hélène Ralimanana, team manager at the Kew Madagascar Conservation Centre, said it's vital to study the composition of the Madagascar banana in order to identify the genes that protect it from Panama disease.
"It is very important to conserve the wild banana because it has large seeds which can offer an opportunity to find a gene to improve the cultivated banana."
Scientists need to figure out how to cross-breed bananas before the fruit becomes a distant memory.
Source:
---
| | |
| --- | --- |
| | Julie Fidler has written hundreds of articles on key world topics such as health, drugs, and law. She is also the author of Adventures in Holy Matrimony: For Better or the Absolute Worst. Oh, and she loves to take care of two ridiculously- spoiled cats in her free time. |
One response to "Bananas are Facing Extinction Because of a Soil Fungal Infection"