6th High School Football Player Since Early September Dies
Signaling a need for more safety?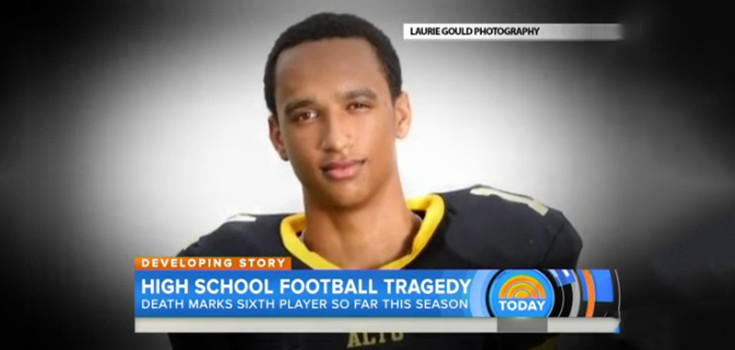 Another young football player died recently after he reportedly collapsed on the field – signaling the necessity to safeguard life-threatening sports (though the sport is not seen as the culprit in this particular case).
Cam'ron Matthews, a junior at Alto Texas Independent School District, told his teammates that he felt dizzy during a huddle. He then collapsed and doctors, nurses, and coaches worked to keep him breathing until a helicopter transported him to a Tyler hospital. It's not clear exactly what happened to the teenager. It was widely reported that the young man died after suffering a seizure. [1]
Sadly, Alto is in a rural community 11 miles from the nearest town and after ambulance officials summoned the medical helicopter, Matthews had to wait 20 minutes for it to arrive.
A friend of the Matthews family told NBC News that Cam'ron died of an aneurysm, and that she doesn't think football had anything to do with it.
Alto Independent School District Superintendent Kerry Birdwell described the wide receiver as "a great kid in the classroom, unbelievable athlete, but more importantly just a great, great kid."
As of Sunday, neither the Cherokee County Sheriff's Office nor the nearest coroner, in Dallas County, had Matthews' cause of death. The Dallas County coroner said Matthews' autopsy results would be forwarded to Cherokee County, where Alto is located.
"I am very sorry to say that Cam'ron Matthews has stopped his fight this evening," Alto High School Principal Scott Walters said in a Facebook post on Saturday. "What an incredible young soul. Please keep Cam's family in your hearts and prayers and please keep this incredible Alto community in your prayers."
Matthews is the 6th high school football player to die since early September. Two weeks ago, a high school football player from Seattle died from a traumatic brain injury he sustained while receiving a tackle. Early last month, a New Jersey player collapsed after taking a hit during a game and later died from massive internal bleeding caused by a lacerated spleen. [3]
In 2014, 5 high school football players died of causes directly related to the sport, including head and spine injuries. Six more teens died of indirect causes, such as heatstroke, electrolyte imbalances and water intoxication. Three of the deaths were heart-related.
Sources:
[1] CNN
[3] CBS News
---
| | |
| --- | --- |
| | Julie Fidler has written hundreds of articles on key world topics such as health, drugs, and law. She is also the author of Adventures in Holy Matrimony: For Better or the Absolute Worst. Oh, and she loves to take care of two ridiculously- spoiled cats in her free time. |