Make Way for Marijuana: Drug Sentences to Be Slashed According to US Commission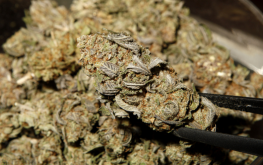 According to an FBI study, someone is arrested for marijuana possession every 42 seconds in the US, but after a unanimous decision voted on this past Thursday by the US Sentencing Commission (USSC), prison populations will start to be whittled down by decreasing federal drug-related sentences.
Our prisons are bursting at the seams in America, largely due to drug trafficking convictions. We spend over $50,000,000 annually to wage the 'war on drugs' and of these, many are non-violent crimes. In 2012, the most recent year for which there are statistics, 749,825 individuals were charged with marijuana law violations. Of those, 88% were arrested for possession only. Though prison populations have declined very slightly of late, incarcerating people is still big business – and rhe U.S. is the leader in that field.
The announcement that the USSC will be limiting drug sentences is good news, not only because far too many innocent individuals are imprisoned in our country, but also because it shows that the Feds are likely loosening their iron grip on marijuana users, especially in light of numerous states seeking medical marijuana legalization. Our federal laws are way past the date of expiration, being penned in the Reagan era, and require drastic reform.
In 2010, the Fair Sentencing Act passed which abbreviated, but did not eliminate, sentencing disparity between crack and powder cocaine offenders, was a step in the right direction. These are far worse drugs than medical marijuana, which shouldn't be classified in the same group at all. And removing Cannabis from the Schedule I Controlled Substances Act should be the long-term goal of all individuals that want the freedom to use industrial hemp, medical marijuana, or Cannabis oil for themselves or family members.
Read: 75% of Americans See Marijuana Legalization as Inevitable
In the meantime, the Smarter Sentencing Act (House Resolution 3382/Senate Bill 1410), has already been approved by the Senate Judiciary Committee and is pending in the House. It would direct federal judges not to rule for mandatory minimum sentences, and also reduce mandatory sentences for drug offenders under the Fair Sentencing Act.
The USSC has now, with the administration's support, acted of its own accord. The commission voted to reduce sentences by amending the federal guidelines to lower the base offense guidelines in the Drug Quantity Table across numerous drug types, including but not limited to marijuana. The commission foresees this legislative change reducing prison populations by the thousands annually.
Unless the USSC votes to make the new guidelines retroactive, they will impact only defendants sentenced after November 1. Judge Patti B. Saris, chair of the commission said:
"This modest reduction in drug penalties is an important step toward reducing the problem of prison overcrowding at the federal level in a proportionate and fair manner. Reducing the federal prison population has become urgent, with that population almost three times where it was in 1991."
---
---


Christina Sarich is a humanitarian and freelance writer helping you to Wake up Your Sleepy Little Head, and See the Big Picture. Her blog is Yoga for the New World. Her latest book is Pharma Sutra: Healing the Body And Mind Through the Art of Yoga.